Squamates Ep. 13: Mostly Humbugs
We are the worst, but at least we have an Episode 13, unlike a certain podcast we know. In this long-delayed episode, it's just two of your normal co-hosts, Dr Mark D. Scherz and Gabriel Ugueto, in a more laid-back, chatty format than the usual!
In this thirteenth episode, the structure of the show is a bit different, but we do talk about biogeography and conservation of some geckos and frogs from Madagascar, how exciting we find turtles, and some really cool new science.
Works in Frogress
Mohan, A.V., Gehring, P.-S., Scherz, M.D., Glaw, F., Ratsoavina, F.M. & Vences, M. (2019) Comparative phylogeography and patterns of deep genetic differentiation of two gecko species, Paroedura gracilis and Phelsuma guttata, across north-eastern Madagascar. Salamandra, 55(3):211–220.
Scherz, M.D., Glaw, F., Hutter, C.R., Bletz, M.C., Rakotoarison, A., Köhler, J. & Vences, M. (2019) Species complexes and the importance of Data Deficient classification in Red List assessments: the case of Hylobatrachus frogs. PLoS One, 14(8):e0219437. DOI: 10.1371/journal.pone.0219437 — for more information about this paper, see Mark's article in The Conversation (short) and on his blog (long) about it
Mark mentions this paper as well when talking about the former:
Gehring, P.-S., Siarabi, S., Scherz, M.D., Ratsoavina, F.M., Rakotoarison, A., Glaw, F. & Vences, M. (2018) Genetic differentiation and species status of the large-bodied leaf-tailed geckos Uroplatus fimbriatus and U. giganteus. Salamandra, 54(2):132–146.
and this paper when talking about the latter:
Gehara, M., Crawford, A.J., Orrico, V.G.D., Rodríguez, A., Lötters, S., Fouquet, A., Barrientos, L.S., Brusquetti, F., De la Riva, I., Ernst, R., Urrutia, G.G., Glaw, F., Guayasamin, J.M., Hölting, M., Jansen, M., Kok, P.J.R., Kwet, A., Lingnau, R., Lyra, M., Moravec, J., Pombal, J.P., Jr., Rojas-Runjaic, F.J.M., Schulze, A., Señaris, J.C., Solé, M., Rodrigues, M.T., Twomey, E., Haddad, C.F.B., Vences, M. & Köhler, J. (2014) High levels of diversity uncovered in a widespread nominal taxon: continental phylogeography of the Neotropical tree frog Dendropsophus minutus. PLoS ONE, 9(9):e103958. DOI: 10.1371/journal.pone.0103958
Some showcases of what Gabriel talked about:
His 'cheat-sheets' to some American lizards: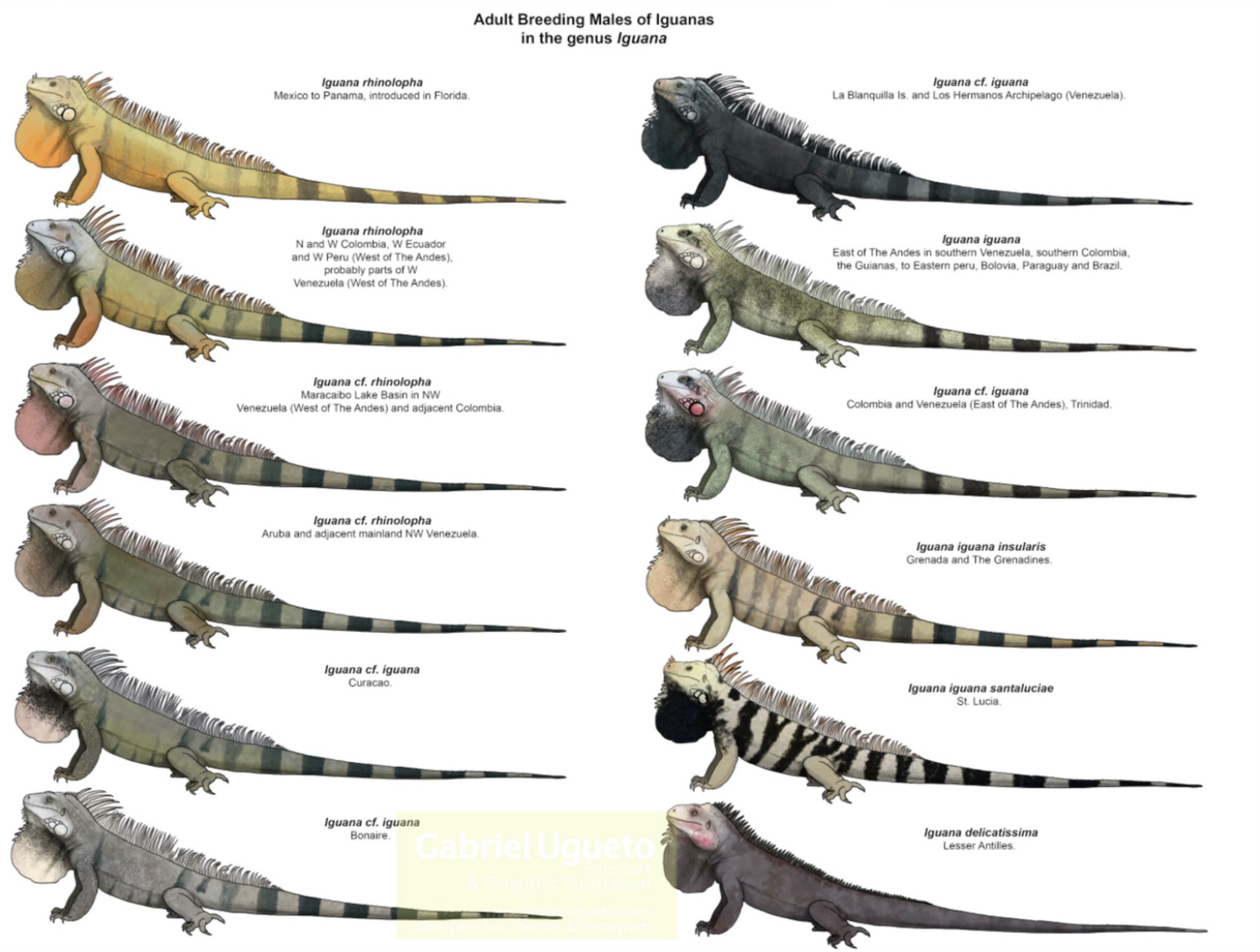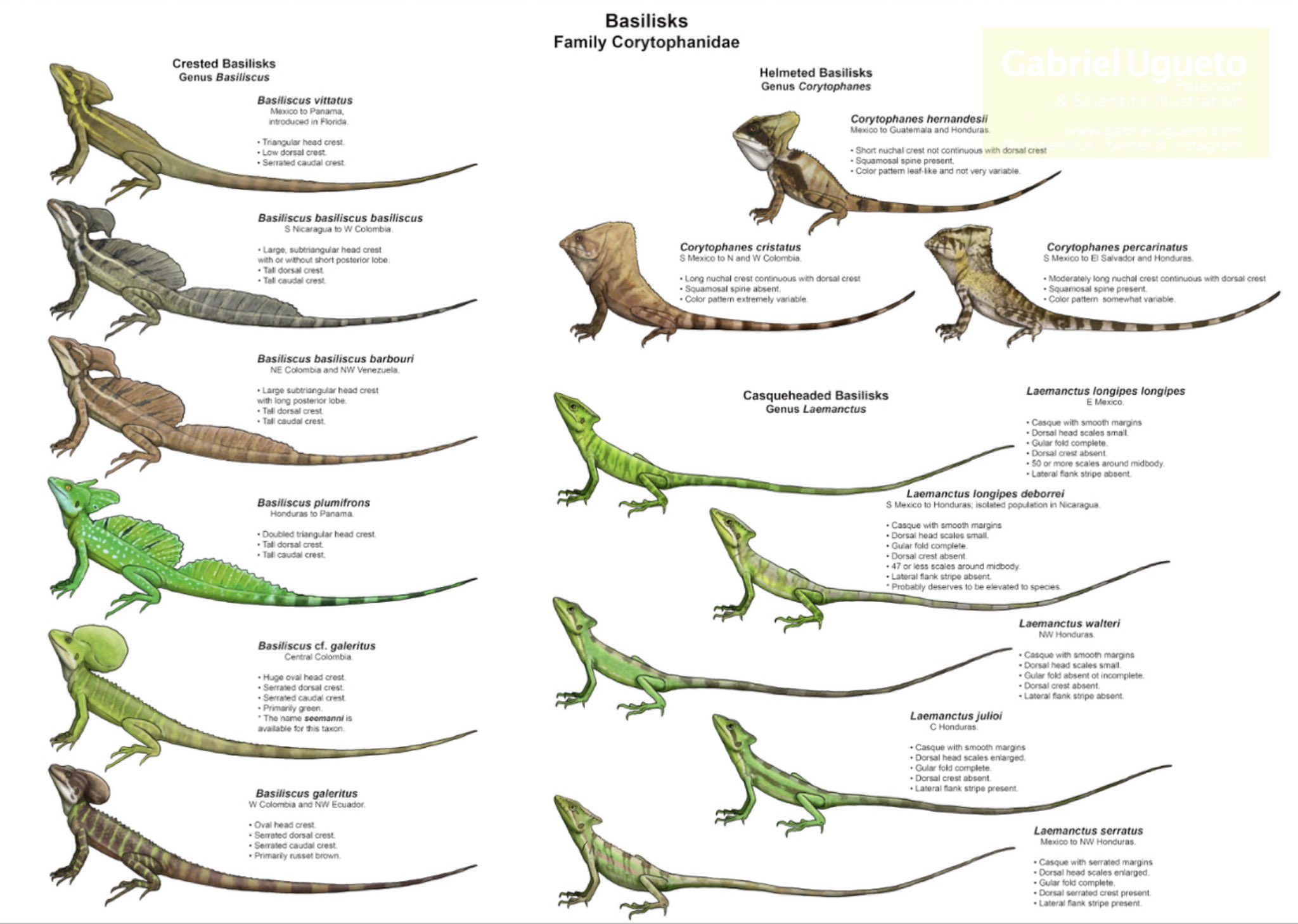 Jurassic taxa for his upcoming book:
Follow-up
Wollenberg Valero, C.K., Marshall, C.J., Bastiaans, E., Caccone, A., Camargo, A., Morando, M., Niemiller, L.M., Pabijan, M., Russello, A.M., Sinervo, B., Werneck, P.F., Sites, W.J., Wiens, J.J. & Steinfartz, S. (2019) Patterns, mechanisms and genetics of speciation in reptiles and amphibians. Genes, 10(9): DOI: 10.3390/genes10090646
Rasys, A.M., Park, S., Ball, R.E., Alcala, A.J., Lauderdale, J.D. & Menke, D.B. (2019) CRISPR-Cas9 Gene Editing in Lizards Through Microinjection of Unfertilized Oocytes. Cell Reports, 28(9):2288–2292.e3. DOI: 10.1101/591446
Breuil, M., Vuillaume, B., Schikorski, D., Krauss, U., Morton, M.N., Haynes, P., Daltry, J.C., Corry, E., Gaymes, G., Gaymes, J., Bech, N., Jelić, M. & Grandjean, F. (2019) A story of nasal horns: two new subspecies of Iguana Laurenti, 1768 (Squamata, Iguanidae) in Saint Lucia, St Vincent & the Grenadines, and Grenada (southern Lesser Antilles). Zootaxa, 4608(2):201–232. DOI: 10.11646/zootaxa.4608.2.1
Breaking Newts
Women Researching and Talking Herpetology
The September 2019 issue of MDPI Diversity is packed with herpetology!
Fischer, E.K., Roland, A.B., Moskowitz, N.A., Tapia, E.E., Summers, K., Coloma, L.A. & O'Connell, L.A. (2019) The neural basis of tadpole transport in poison frogs. Proceedings of the Royal Society B: Biological Sciences, 286(1907):20191084. DOI: 10.1098/rspb.2019.1084 — Mark said this was in Open Science but it was not
Rovatsos, M., Farkačová, K., Altmanová, M., Johnson Pokorná, M. & Kratochvíl, L. (2019) The rise and fall of differentiated sex chromosomes in geckos. Molecular Ecology, 28(12):3042-3052. DOI: 10.1111/mec.15126
Feiner, N. (2019) Evolutionary lability in Hox cluster structure and gene expression in Anolis lizards. Evolution Letters, 3(5):474–484. DOI: 10.1002/evl3.131 — check out the post on this article on Anole Annals!
Skipwith, P.L., Bi, K. & Oliver, P.M. (2019) Relicts and radiations: Phylogenomics of an Australasian lizard clade with east Gondwanan origins (Gekkota: Diplodactyloidea). Molecular Phylogenetics and Evolution, 140:106589. DOI: 10.1016/j.ympev.2019.106589
Watanabe, A., Fabre, A.-C., Felice, R.N., Maisano, J.A., Müller, J., Herrel, A. & Goswami, A. (2019) Ecomorphological diversification in squamates from conserved pattern of cranial integration. Proceedings of the national Academy of Sciences of the USA, 116(29):14688. DOI: 10.1073/pnas.1820967116
Chaplin, K., Sumner, J., Hipsley, C.A. & Melville, J. (2019) An integrative approach using phylogenomics and high-resolution x-ray computed tomography for species delimitation in cryptic taxa. Systematic Biology: DOI: 10.1093/sysbio/syz048
Shout-outs
Common Descent Podcast: PodBean • Apple Podcasts • @CommDescentPC
Eva Fischer: @evakfischer • Fischer lab website • Personal Website
Lauren O'Connell: @alaurenoconnell • Stanford Laboratory of Organismal Biology
Follow the show and the hosts on social media!
SquaMates: website • twitter • instagram • facebook
Mark D. Scherz: website • twitter • instagram • tumblr • facebook • researchgate • redbubble
Gabriel Ugueto: website • twitter • instagram • facebook • artwork prints
Ethan Kocak: website • twitter • tumblr • facebook
Podcast: Play in new window | Download (Duration: 1:27:37 — 121.0MB)
Subscribe: Google Podcasts | Stitcher | TuneIn | RSS | More